A TRUE HUNTER LOVES EVERY ASPECT OF THE HUNT, THE SKIES PAINTED PINK AND ORANGE BY THE EARLY MORNING SUN, THE SMELL OF A HOT COFFEE BEING PREPARED ON THE CRACKLING CAMP FIRE, THE COLD MORNING AIR FILLING ONES LUNGS EXCITED BY THE PROSPECT OF SPENDING THE DAY IN THE BUSH EXPERIENCING NATURE IN ITS TRUEST FORM. WE SLOT IN PERFECTLY AS BOTH PREDATOR AND PREY. EVERY TWIG THAT SNAPS CATCHES OUR ATTENTION, WE BECOME AWARE OF THE WIND ON OUR SKIN GUIDING US LIKE A SHEPHERD THROUGH THE BUSH. WE BECOME AWARE OF EVERY DETAIL, EVERY INSECT AND EVERY BIRD HOPING TO CATCH A GLIMPSE OF THAT MONSTER TROPHY. WE SPEND HOURS MESMERIZED BY THE ULTIMATE GAME OF HIDE AND SEEK. FINALLY, WE SET OUR SIGHTS ON OUR TARGET GRAZING UNAWARE IN THE DISTANCE, JUST A LITTLE CLOSER WE CAN NOT MESS THIS UP. TIME SLOWS DOWN AND YOU FEEL YOUR HEART BEATING AS IF IT IS TRYING TO BREAK FREE FORM YOUR CHEST. AIM WELL AND KEEP IT STEADY, THIS IS YOUR RESPONSIBILITY; YOU OWE IT TO THE MAJESTIC CREATURE STANDING IN FRONT OF YOU. WITH A SLOW SQUEEZE OF THE TRIGGER IT IS ALL OVER, THE SMELL OF GUN POWDER LINGERS IN THE AIR AS YOUR EARS TRY TO ADJUST AFTER THE DEAFENING SOUND OF YOUR RIFLE. WE APPROACH WITH CAUTION AS WE KNOW IN AFRICA THE ONES THAT YOU THINK ARE DEAD CAN MOST EASILY KILL YOU. WE MARVEL AT THE BEAUTY OF THE ANIMAL IN FRONT OF US AND PAY HOMAGE KNOWING THAT WE ARE PART OF ONLY A LUCKY FEW THAT CAN EXPERIENCE NATURE IN ITS TRUEST FORM.
WE ALSO HAPPEN TO GET YOU AMAZING TROPHIES!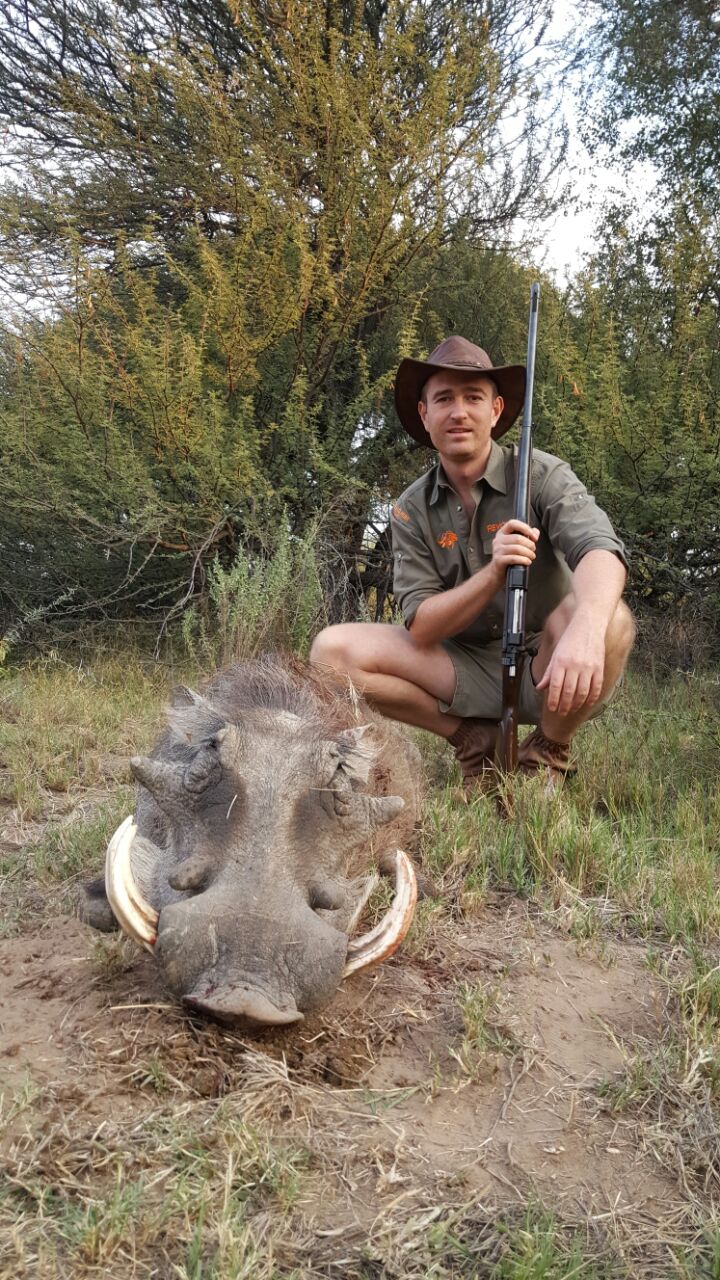 What are you waiting for?